Join me for a Women's Awakening program!
Ready to step into your authentic self? Craving more energy and creativity? Want to awaken your voice and your inner fire?
It's time to occupy your own life more fully. It's time to take up your space and free yourself up to live joyfully in your own skin.
Our Content
In this four-week program, we will recognize and release the internalized sexism that holds us back. Many of us are hamstrung by the belief that we should stay small to keep everyone else comfortable. We have trouble giving ourselves time and space to tend to our own needs and desires because we believe our worth is tied up in caring for others. We compare ourselves to culturally prescribed versions of perfection, femininity, and womanhood in ways that lead us away from self-love, and away from our own power. These internalized, destructive messages have a toxic impact on our relationships to ourselves, to our loved ones, and to our own bodies.
If this sounds familiar, you are not alone. Together we can shine light on the ways cultural messages become internalized, leading us to be our own worst enemies. Most importantly, we can let go of the ideas that no longer serve us so we are free to thrive. As we do so we step into our capacity to experience, share, and enjoy our own authentic energy. Joy, passion, and creativity are your birthright; it's time to reclaim them.
Our Process
When you register you will be given access to a private Instagram account where you will find all of the content. Register anytime, and work through it at your own pace!
The course is made up of four modules. Each module includes an hour-long video recorded teaching from me, followed by a guided visualization you can use as often as you like to support your growth, and four assignments to help you dig in, explore, develop insight, shed old patterns and practice new ones!
What People are Saying…
"I never realized before how much I live according to what I believe is expected of me instead of according to my own inner values. I am now starting to hear my own true self!"
"This has been amazing. I have been craving to be in conversation about these topics with other women. Powerful."
"I am blown away by how much meaningful content Lindsay is offering. I am grateful to be calling myself back into my life!"
"Lindsay introduces themes for us to explore in such powerful and thoughtful ways, and the assignments help me learn so much about myself."
"I struggle to make time for myself, and this program is helping me understand why I always put myself last, and how to change those patterns.
"The coaching session about our relationship to our bodies touched me deeply, it had me in tears. So much growth and healing is available."
"This has been SO GREAT! I am telling all my friends to register. Thank you!"
---
While some people may choose to engage the program entirely in private, I will encourage those who want to amp up the volume through community support to share insights and challenges, and encourage each other as we go.
You will find that having other people to process with speeds up your growth exponentially, so GRAB A FRIEND and hop aboard.
These four weeks are about helping you step into the light…YOUR light.
---
Program cost: $495

---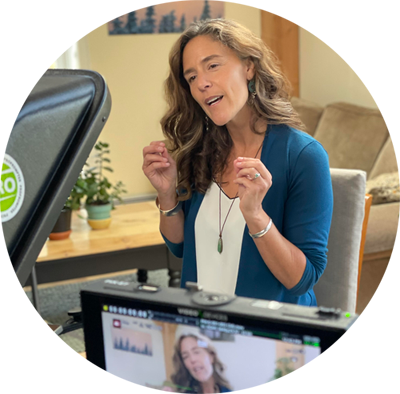 ABOUT DR LINDSAY JERNIGAN:
Dr. Lindsay Jernigan is a licensed clinical psychologist with a Ph.D. in Clinical Psychology and an M.A. in Counseling Psychology.
Dr. Lindsay offers consultation and mental health education to businesses, schools, and other organizations.
She provides therapeutic services for individuals and couples, and supervision and professional training for clinicians.
Along with her regular contributions to Psychology Today, her work has been featured in Oprah Magazine, The Washington Post, NBC News, US News and World Report, Bustle, Cosmopolitan, and more.